NZMA e-News
The purpose of this page is to post information that has been sent to members via e-mail.  This will provide us with an on-going record of correspondence that can be viewed by anyone at anytime.
Having read each post, you can use this e-mail address : mail@nzmastersathletics.org.nz or a specific e-mail address included within a given post, should a reply be requested.
********************************************
---
e-News Tuesday 17th April 2017:
Hi All,
The 2017-2018 track and field has seen an over increase in participation numbers, which is a direct result of the MoU between NZMA and Athletics NZ.
Firstly, we had the Oceania Master's Track & Field Championship held in Dunedin during late January.  This attracted 361 competitors and of these, where were 224 New Zealanders.  Many of those competing were Athletics NZ Club athletes competing for the first time.  At the NZMA Track & Field Championship held in Whangarei in early March, there were 225 entries.  Between these two major championship events, there were 372 masters that competed in either one of these events, with 77 competing in both.   Well done to both Otago and Northland Centres for hosting these events.
Next year it is the turn of Canterbury Masters to host this event.  It is possible that we could get over 300 entries!
IMPORTANT NOTE – 2019 NZMA Track & Field Championships:
As you all will be aware, Christchurch has been without an all weather track since 2011.  While work is progressing well on the new facility , the venue is a long way off being completed.   This photo was taken on 6 April 2019.  The gel layer has been laid on the track, but unless the weather stays dry and warm, the laying of the top coat could be a problem!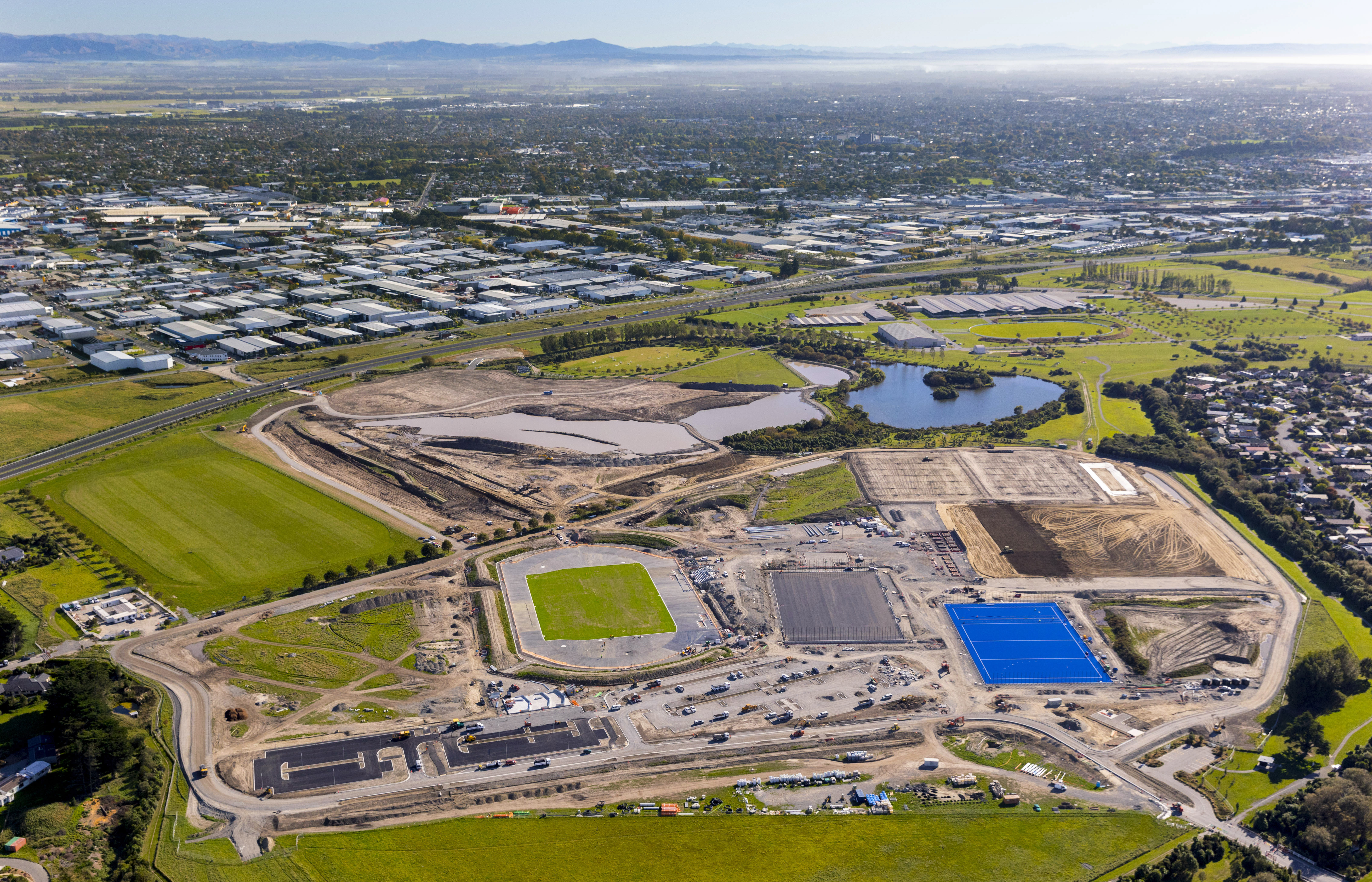 With fewer CMA members these days, the success of this event relies on us working with Athletics Canterbury.  I am the President of the Centre and have been working closely with those associated with the new venue.  Our considered opinion is that Athletics Canterbury needs time to settle into the new venue before hosting too many large events.  The Centre is already committed to hosting the Athletics NZ Championships during March 2019, and two major events a week apart at a new venue is too much, too soon. 
Therefore the 2019 NZMA event will be held in TIMARU, 1st to 3rd March 2019.   I apologise for any inconvenience this may cause, however given what we have been through, I trust y0u understand.
Our two other Championships are being held in Invercargill & Wellington.
During the year, various board members have continued working on centralising some of the key tasks, to help take the pressure off Centres.  We now handle all three of our Championship event entries on-line and produce electronic entry lists for the hosting Centres that streamline the whole process.  We can also assist with the formatting of a programme booklet if required.
We have created a NZMA Dropbox in which all generic and other important documents are stored, making them readily available to all board members from anywhere in the country.  We are also upskilling various board members re: website & Facebook procedures, so the updating is not always left to the same person.
We have created sub-committees to handle record applications and the annual awards, all with the view of making the processes more streamlined and efficient.  In the near future, we will be adding the on-line shop feature to our website.  This will ultimately handle Vetline purchases from Athletics NZ members and NZMA uniform sales, allowing for payment at the time of purchase.
One of the advantages of the MoU is that we have access to Athletics NZ ClubNet platform.  As from 1st April, Athletics NZ are requiring their members to re-join themselves directly using this system, rather than going via a club membership registration person.  We are planning to make this option available to our members as well, by allowing individuals to register and pay for themselves.  There will be more information and training about the process, closer to the end of our financial year.  I am interested to hear from Master's Centre registration secretaries …. do you think it's a good idea?
I would also like to acknowledge the support we received from Athletics NZ through the year.  Whenever I have asked for bulk e-mails to be sent out to their members, advertising up-coming events they have willing done so.
At the recent NZMA AGM, Karen Gillum-Green do not seek re-election to the Board.  I would like to acknowledge and thank her for the contribution she has made during the past seven years.  This has left us one down on Board members.  We are currently looking at changing the NZMA constitution that would allow us to co-op people on to the Board, when this situation occurs.  At the AGM, I presented a full report that can be viewed on the NZMA website.
NZMA going forward?  There is still quite a bit to do involving succession planning.  To ensure new board members coming onto the Board have clear guidelines and directions to follow, that will be the focus in the immediate future
The winter season is almost upon us.  Good luck to those brave souls who enjoy the longer races.
Kind regards,
Andrew Stark
---
e-News Monday 29th January 2017:
Hi All,
It has been a while since my last e-News, but a lot has been going on in the background that has kept me very busy re: athletics stuff and time seems to speed up the older I get!
Firstly, welcome to the new year and the business end of the season.  Before I list what's on, on behalf of the athletes I would like to thank the Canterbury and Taranaki Centres for hosting the two Island Championships (held in Timaru & Inglewood).  Numbers were down for both events, but from all accounts they were enjoyable for those who did attend.
Well done also to the Otago Centre for hosting a very successful Oceania Masters Championships last week.  There were over 360 entered, with 224 New Zealanders.  Of these, 63 were first time competitors who have never joined NZMA, but were Athletics NZ club athletes.  Thank you for coming!
What's on, when & where?
Vetline Magazine Subscriptions DUE now (ANZ Club athletes ONLY):
All NZMA registered members still receive copies of this magazine, so you DO NOT need to order.  It is currently at the printer.  All ANZ Club athletes are required to purchase a subscription to the magazine ether via your local master's centre or via our website (http://nzmastersathletics.org.nz/vetline/).  This entitles you to FOUR issues.  Please order ASAP to make sure you don't miss out on the January issue as there will be a limited number printed.
For me, this is my busiest time of the year.  So I can relax & enjoy next week down in Dunedin, I need to get on with some real work.  I look forward to catching up with many next week.
Kind regards,
Andrew Stark
---
e-News Wednesday 18th October 2017:
Hi All,
The track & field season is now underway.  If you are a NZMA Competitive / Social Member, please contact your local Masters Centre as it is now time to pay your 2017 – 2018 subscription.   If you are a financial member of an Athletics New Zealand Club, you do not have to do anything …. but enter our events paying the appropriate entry fees.
The NZMA Registration Fees are $60.00 (Competitive) / $45.00 (Social), plus a local Master's fee (if applicable). 
If you are planning to enter any of the events listed below, you must be either a financial Competitive member of NZMA or an Athletics New Zealand club.
Our first major events are coming up very soon.  As yet entries are 
South Island Masters Track & Field Championships (November 10 to 12 2017, Timaru.  CLICK HERE to enter online.  
North Island Masters Track & Field Championships (November  24 to 26 2017, Inglewood.  CLICK HERE to enter online.
Oceania Masters Track & Field Championships (January 20 to 27 2018, Dunedin.  CLICK HERE to enter online.
To ensure these events are successful … please enter ASAP.
I look forward to catching up with many of you over the next few months at the various events around the country. 
Andrew Stark
(NZMA President)
---
e-News Tuesday 12th September 2017:
Hi All,
It's been a while since I put pen to paper, but that has not meant that nothing has been going on.  The winter season for our Athletics New Zealand club registered masters athletes is almost coming to a close.  All non-stadia Championship events are organised by Athletics NZ, more often that not with the help of masters officials.  All results can be found on the ANZ website.  
Next season we will create a website page on our site with direct links to non-stadia events, so that we can be keep informed about what's going on, where & when, plus the results.  The final major championship coming up for our 'winter' members is the ANZ National Road Relay Championships , being held in Rotorua on 30 September 2017.  Good luck to those attending.
---
NZMA Registration due NOW:
It's that time of the year again when it is time to pay your 2017-2018 registration fees via your local Master's Centre.  This only applies to NON-CLUB NZMA members, i.e. NZMA Competitive ($60 + local Masters' fee) & NZMA Socal ($45 + local Master's fee) Members.  If you intend to compete in the events listed below, you need to renew your NZMA membership prior to the closing day for entries of the event.  Contact your local Centre for more details on how much you need to pay and to whom.
---
Up coming events:
---
Athletics New Zealand links …..
If you are interested in keeping up to date with what is going on nationally all year round, subscript to the ANZ Athletics in Action e-newsletter that comes out fortnightly.  While it mainly has articles about non-masters events  & people, ANZ are more than happy for us to promote our events via their newsletter which they already do.  There is also no reason why one of our athletes cannot be featured …. we just need to provide them we information.  Do you have anyone in mind …… ?
---
ANZ Members Benefit Section
Now that NZMA have an MoU with ANZ, all our members are able to take advantage orf the members benefit section on the ANZ website.  Check it out and see what's available.
---
The future of Vetline??
In the July issue of Vetline, I commented in my President's report that the NZMA Board has decided to only have THREE Vetline issues per year.   It simply comes down to available information that we can publish that is relevant to our members, plus the workload of the very few members who contribute.   The old saying 'use it or lose it!' is true here.   We can't expect the same old few to do all the work required to put this publication together.  Going out promoting Vetline to get advertising income, is simply not that practical given the limited print run.  The NZMA Board is committed to keeping it going, but we seriously need help!!!  If you have experience is finding advertisers / sponsors, then I would like to hear from you ASAP.
Vetine COPY require now for October issue.  Please send articles to Derek Shaw and photos to John Campbell.
---
The new track & field season is about to start.  Unfortunately for us in Canterbury, the wet weather has delayed work at Nga Puna Wai Sports Hub site, so we will be having our sixth full season at Rawhiti Domain.  Never mind …. 
I look forward to catching up with many of you over the next few months at the various events around the country. 
Andrew Stark
(NZMA President)
****************************************************
e-News Wednesday 15th February 2017:
Hi all,
We are less than three weeks away from the 43rd running of the New Zealand Masters Track & Field Championships, being held this year in Nelson from Friday 3rd March to Sunday 5th March 2017!  Are you ready??
Entries have closed and on the NZMA Championship page you can view a list of those going and a draft copy of the fields as at today.  There are some large groupings within the field events and the LOC is currently looking at how best to run these events, which does mean there might some adjustments required to the start time.  If there are any changes, a new schedule of events will be posted on the NZMA Championships page …. so watch that space.
Officials Help Needed:  
As is always the case, there is a shortage of officials!  To help the LOC organise teams of officials prior to the event, can you please contact Derek Shaw ASAP at nikau@ts.co.nz so your name can be added to the list.
NZMA AGM:  Just a reminder that at the AGM we will be discussing the proposed changes to the NZMA Constitution and By-Laws.  Both draft documents can be viewed from the NZMA Info / Documents page above.
World Masters Indoor Track & Field Championships:  March 19 – March 25  (Daegu)
While I have not seen a list of NZMA members who are attending this event, I know that we have 22 competitors going.  All information about this event can be seen on their website:  http://daegu2017.or.kr/eng/
Michael Wray has been appointed the NZMA Team Manager.  Please contact him at michaelwray@xtra.co.nz  if you have any questions.  Good luck to all those going and I look forward to hearing about your trip.
World Masters Games 2017:  April 23 – April 30 2017  (Auckland)
This event, being held in Auckland, is coming up very soon and
I have been informed that entries for athletics are CLOSING THURSDAY 16th FEBRUARY.
Go to their website TODAY to get your entry in or you will miss out.
http://www.worldmastersgames2017.co.nz/
Andrew Stark
(NZMA President)
***********************************************************
 e-News Tuesday 3rd January 2017:
Hi all,
ACTION Required NOW!  ….. Vetline Subscriptions – Next issue due January 2017  
Order TODAY or miss out on the January issue.
Only current financial members of NZMA (Competitive or Social) will receive Vetline issues during 2017, so if you have not rejoined NZMA, please do so NOW by contacting your local Master's Centre by the end of the week.  If you are a member, you will receive the January Vetline.
If you are an ANZ Competitive member and have not already purchased your Vetline subscription and you would like to receive four issues of the Vetline magazine, you are required to purchase a subscription, either via your local Master's Centre or directly via the NZMA website.
Either way, you have until Friday 6th January 2017 to order or you will miss out on the January 2017 issue.  To view PDF versions of previous issues or to purchase your new subscription – CLICK HERE
Andrew Stark
(NZMA President)
e-News Monday 12th December 2016:
Hi all,
Here is the latest information and e-News ….
NZMA AGM Notice, Service & Merit Awards and Athlete of Year Awards
Late last month all Centre Secretaries were sent information about the following and by clicking on each title below you can read those documents:
The correct procedure is for these forms to be completed by Centre Secretaries and forwarded to the NZMA Secretary by the due dates.  I have included the forms here so you all know what is happening, what is required and by when.  You are welcome to nominate yourself via your Centre.  We would rather you do that than be overlooked by mistake, which has happened in the past.
NZMA Championships – Nelson (March 3rd to 5th 2017)
This event is open to all financial NZMA and ANZ Competitive Members.  If that's you … then you can find out more information by CLICKING HERE.  At the NZMA AGM held during this weekend we will be voting on the Constitutional and By-Law changes, so please come along if you can.  More information about the proposed changes to both these documents will be posted soon.
Athletics NZ Member Benefits Programme … available to all
One of the advantages of NZMA creating the MoU with Athletics NZ is that we all can take advantage of the Member Benefits Programme that ANZ has organised with various companies.  So check out what's on offer … you may be surprised at what you can save!!  CLICK HERE to find out more.
Finally, as 2016 draws to a close, I would like to take this opportunity to wish you all well for the festive season ahead … do your best to maintain some training, so when the competition starts again next year, you will be ready.
Andrew Stark
(NZMA President)
********************************************
e-News Monday 24th October 2016:
Hi All,
By now, many of the NZMA members going to Perth will already be there or leaving in the next day or so.  Use this link (nzma-perth-list-2016-v2) to view a list of who is competing and what events they have entered in.  Good luck to you all.
For those back home, 'as it happens' or daily results will be posted on the Perth WMA 2016 website.
Regards,
Andrew Stark
(NZMA President)
********************************************
e-News Monday 10th October 2016 – Message from Malcolm Clark, NZMA Team Manager for Perth 2016:
As New Zealand Masters Team manager and with the World Championships only a couple of weeks away there are a few house keeping issues I would like to bring to your attention.
I'm arriving in Perth on the 24th and I am staying at Mounts Bay Waters Apartment Hotel, 112 Mounts Bay Rd – this is near the city centre.  My phone number for texts or messages is +64 20 468 1012.  I know Andrew Stark is in the process of compiling a list of where you are all staying.  If you would like your name on this list, please let him know ASAP (e-mail Andrew).
As many are staying and competing at various localities it will be difficult to get athletes together once the Championships commence.  I would like as many as possible to attend the Opening Ceremony [evening of the 25th].  We could have a team meeting prior to the ceremony – maybe 20 minutes before it starts.
 The Registration Centre or Technical Information Centre [same thing] is where I will be for most of the 25th and I hope to meet many of you there.  We will have an information board at this venue and I would encourage you all to check it out regularly.  I will be posting relevant information on it on most days.  Please read your competition hand books and if you are unsure about anything ask an official.
 Relay teams:  On the information board I will have a sheet where those that are interested in being in the relays [4 x 100 & 4 x 400]can list their names. I would expect to have the teams posted the morning before the 6th.  There are also team events in the cross country and road race walks.  So long as competitors are in the same race there is the opportunity to move athletes down age groups to form teams – but only if there are insufficient athletes in the younger age group.  I will be taking a close look at any opportunities here.
 I will be attending as many daily management meetings as I can and following these will post any relevant information on our notice board.
 Official NZMA Team Uniform:  Please make sure you have NZMA uniform as displayed on the uniform page on this website.  Click here if you are unsure and order one ASAP.  You will NOT be able to compete in an older version.
Finally I hope you are still all fit and well and that you enjoy your competition in Perth.  Looking forward to meeting you there.
Regards,
Malcolm Clark
(NZMA Team Manager)
********************************************
e-News Tuesday 20th September 2016 – NZMA Uniform requirements for WMA Perth 2016:
On Friday 16th of September, an e-mail indicating uniform requirements for Perth was sent to all those going, that have e-mail addresses. Click here for nzma-perth-list-2016.  In the final column of the PDF, I have indicated those of you that have replied, with a 'yes' if you commented about having the new uniform.  If you have not replied yet, please do so.
If you know of fellow competitors going to Perth, who do not have e-mail and may not be aware of this request … please help by passing on this request ASAP.
For those who did not receive the e-mail, if you intend to go to future OMA or WMA Championship events, this information will affect you too.  The new NZMA uniform has been around for several years, yet several members continue to wear older styles.  We would like to 'tidy up' the NZMA look at OMA or WMA events.  Accordingly, at a NZMA Board meeting held earlier this year, it was agreed that as from and including the WMA Championships in Perth 2016, the only acceptable NZMA uniform will be the latest version.
You can view the uniform options available in the NZMA Info section of the website.  For all uniform inquires, please contact Karen Gillum-Green directly at karenandrodney@clear.net.nz
Why is it important for you to comply?  Prior to this event, the LOC from Perth requested a detailed description of the NZMA uniform.  They will be checking what you are wearing against our description.  You risk not being able to compete if you are wearing an out of date uniform.  To avoid disappointment, please make sure you have the correct uniform.
Additional information for those going to Perth.
The following forms will be used at the WMA Championships.  Malcolm Clark (mclark@vodafone.net.nz) who is our team manager will have copies.  However, please have a look at each form so you know what will be required should you need to use one of these forms.
As mentioned in the e-mail last week, if you would like where you are staying in Perth added to my list, please let me know.  So that I know you have seen this e-mail can you please get back to me and if you have not replied about having the correct uniform, can you also please do so (president@nzmastersathletics.org.nz).
I look forward to seeing you in Perth and hope that your training is going well.
Regards,
Andrew Stark